Sunspeed Honda Elise/Exige conversion kit
Introduction
The Lotus Elise is a fantastic lightweight sports car that delivers exceptional performance from its modestly powered Rover engines. With early cars approaching 15 year age, many owners are having to consider refreshing their original engines or look at alternative powerplants. California based Sunspeed International was one of the first companies to develop a fitting kit around the Honda Civic B16 for the Elise., and more recently the Honda Integra K20 engine/gearbox.
The Honda K20A provides a modern high performance engine almost doubling the Elise's original power coupled to an ultra quick 6 speed gearbox ( Type R versions include an LSD). Honda's variable cam control and VTEC technology provide this power while still meeting modern emission standards. While it is possible to tune the Elise's original motor to similar power outputs to the K20A, these are full race engines unable to meet the reliability, drivability and emissions of the Honda K20A.
Details of the Sunspeed kits are available at Sunspeed Internationals website. http://www.sunspeed.com/
<![if !vml]>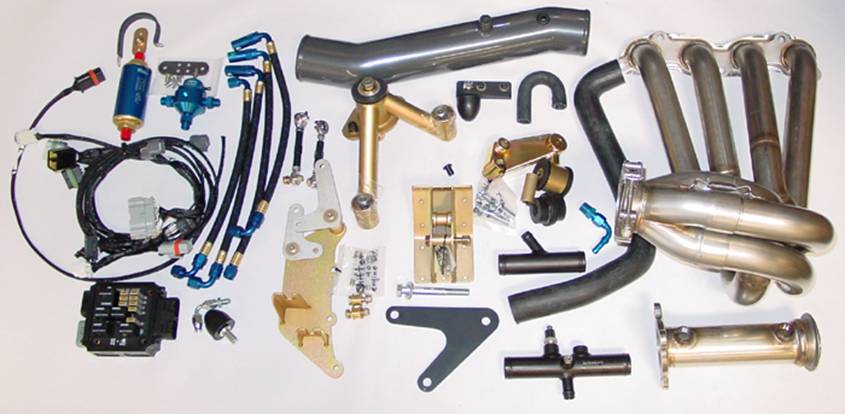 <![endif]>
Kit components
The Sunspeed kit available as a complete conversion package, or as individual component groups.
Details of the Sunspeed component groups are available on Sunspeeds website Sunspeed detailed components
Other components needed
To complete your installation you will need a Honda K20 powerplant. Most Australian owners select the Honda K20A2 powerplant from Australian delivered Integra type S, or an imported K20A from the JDM Integra DC5 type R. The type R motor has slightly higher power output and also includes and factory LSD.
Details of the various K20 engine variants can be found here. http://en.wikipedia.org/wiki/Honda_K_engine
The Honda components required for the conversion are
<![if !supportLists]>· <![endif]>Honda K20A engine complete with all engine sensors, engine loom, alternator/starter loom
<![if !supportLists]>· <![endif]>Honda side engine mount bracket that bolts onto the timing chain cover with 3 bolts
<![if !supportLists]>· <![endif]>K20A 6 speed gearbox with clutch slave cylinder and clutch mechanism
<![if !supportLists]>· <![endif]>Intermediate driveshaft that carries the gearbox output to the right hand inner CV.
<![if !supportLists]>· <![endif]>Factory K20A ECU
<![if !supportLists]>· <![endif]>Air temperature sensor, radiator fan switch, primary O2 sensor
<![if !supportLists]>· <![endif]>Australian delivered K20A2 powerplants also require the secondary O2 sensor, immobiliser key reader (off the lock barrel) and the wiring plug that connects into the key reader. A key code matched to the K20A2 ECU immobiliser will also be required.
Other items that need for the conversion are engine/gearbox oils, coolant, brake fluid.
An upgraded radiator (motorsport specification) is recommended due to the higher heat output of the K20A
A secondary fuel pump/surge tank is also recommended if any track use is anticipated as we have found the factory in tank fuel pump will struggle to maintain fuel pressure at high engine RPM/load.
Is DIY right for you
Sunspeed kit is suitable for owner fitted installations. Even though the kit is designed as a simple bolt in kit, a project of this size requires a certain amount of mechanical aptitude and experience. If you have previously changed an engine, removed a gearbox to change a clutch or changed a head gasket successfully you most likely have the skills required to take on a project of this scale. The project will require you to navigate through a large number of interrelated tasks and most likely a few head scratching sessions. If you enjoy this type of thing then you should find the conversion rewarding.
Some people play golf, chess, bridge or collect things to keep themselves amused. Other people like myself enjoy the challenge or a mechanical project to keep ourselves amused.
You will need a modest toolkit with the following major items.
<![if !supportLists]>· <![endif]>Socket and spanner set
<![if !supportLists]>· <![endif]>Vehicle jack and car stands
<![if !supportLists]>· <![endif]>Drill set, rivet gun
<![if !supportLists]>· <![endif]>Access to an engine hoist
<![if !supportLists]>· <![endif]>Workshop light
<![if !supportLists]>· <![endif]>Files, aviation shears
The fitting of the Sunspeed kit will take most people 30-40 hours. While the car is apart most people take the opportunity to give areas such as wheel bearings, suspension bushes, toe links and ball joints a refresh.
Backup and support
The installation guides and online blogs of the upgrades provide a comprehensive guide to the installation. I also provide services for carry in component modifications ( S1 right hand wishbone for example).
Nick Morgan has a very detailed blog of his S2 sunspeed conversion which make good reading for owners considering their owner upgrades. http://www.elisetyper.com/
Turnkey installations
If you are looking for a drive in/out installation, I have several installation partners who can provide a turnkey installation of the Sunspeed kit. Contact me for details of installers near your location if you are considering this option.